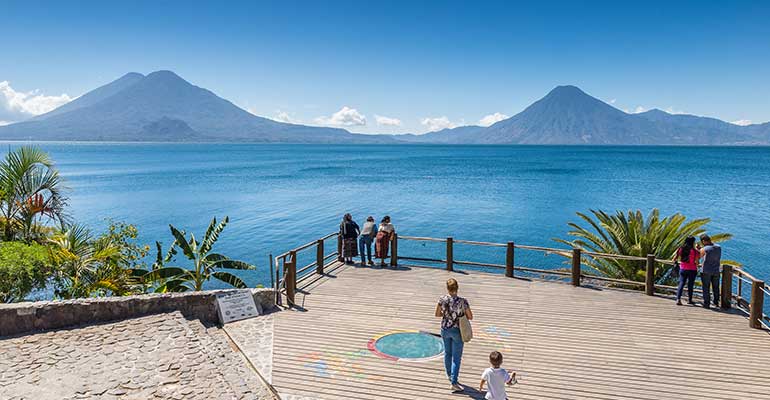 In the department of Solola, Lake Atitlan is undoubtedly one of the most beautiful lakes in the world. It is situated 1,550 meters above sea level and offers a wonderful place to discover the beauty of the country. The lake is surrounded by three volcanoes and mountains. The depth of the lake is estimated at 350 meters.
It is available boats to visit around the lake, at a low cost. This is very famous destination for tourists. You can visit the lake with local guides who will tell the stories of the lake and indigenous peoples.
It is with pleasure that Palasan Tour will offer a unique experience to discover this beautiful place with its indigenous peoples.
Atitlán Lake Activity
Lake Atitlán and around will allow you to practice sports. Travelers will be able to practice kayak on the lake. For safety reasons, it's recommended practice Kayak during the morning, when the lake is relatively flat. In the afternoon, the wind can make it difficult to practice kayaking.
Some local agencies organize cycling and paragliding.
Villages around Lake
Lake Atitlan is surrounded by villages Tzutuhils and Cakchiquel. You can go to every village by boat from the town of Panajachel.
Panajachel is villages where start all excursions around the lake. Many hotels are located in this city. During your tour you can visit the following towns: Santa Catalina Palopo and its colonial church, Santiago Atitlán a small fishing village and Tzutuhil Cakchiquel and the people of Santiago against the San Pedro volcano.
Atitlán Lake Volcanoes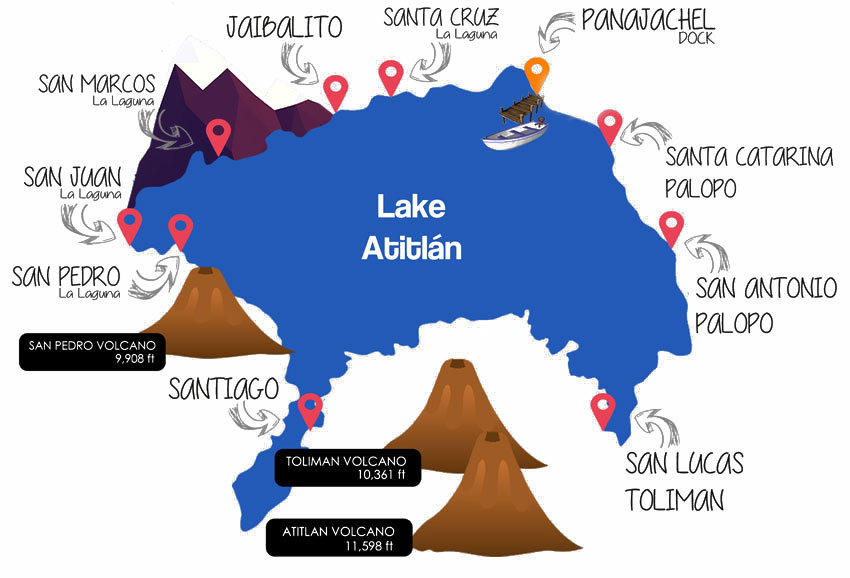 The rise of volcanoes around Lake Atitlan requires regular sports practice, since the upload is described as difficult. The 3 volcanoes surrounding Lake Atitlan are the Volcano Atitlan, Volcano Tolimán and Volcano San Pedro.
Volcano Atitlán : the rise of the volcano is 3,577 meters and requires 7 hours of climbing to reach the summit.
Volcano Tolimán : the rise of the volcano is 3,158 meters and requires 8 hours of climbing to reach the summit.
Volcano San Pedro : the rise of the volcano is 3,020 meters and requires 6 hours of climbing to reach the summit.
View related Tours