Presentation
Guatemala
Guatemala is a country in Central America that has many advantages: wonderful new landscapes, volcanoes, lakes, jungle animals, Atlantic and Pacific coast, Caribbean Sea, archaeological sites and more …
In the past, Guatemala was visiting a country like Mexico extender. Now is a travel destination. It is a small country that comes directly from the Maya. The Indians have preserved their language, customs, colorful clothes (called wipil ) and folklore. This is majority indigenous population in Guatemala.
The difference with Mexico, is that Guatemala has the culture of the Mayan world. Most of the country I keep all traditions and Mayan ruins of their ancestors. They will have the opportunity to discover the famous archaeological site of Tikal, the most beautiful lake in the world : Atitlán.
Let them visit the country and to realize how wonderful the country.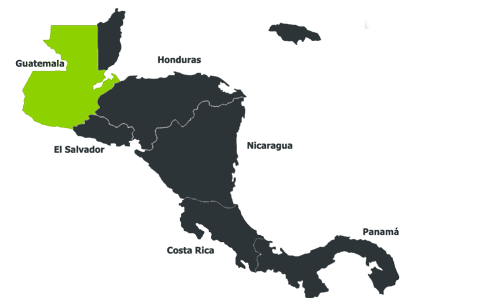 Country´s Identity
Population: 14 million inhabitants
Area: 108 890 km²
Capital: Guatemala City
Languages: Spanish, 24 indigenous languages
Currency: Quetzal (Qtz) – ($ 1.00 = 8 Qtz )
Current President: Jimmy Morales
Cultural Heritage of Unesco : Antigua (1979), Tikal Park (1979), Quiriguá (1981)
Clima
There can be rain during the hot season and in the Petén. Rain is almost always at the end of the evening for this region. We recommend you bring rain gear and start early tours.
The nights are cold by the fact that the country is at altitude. You need to use sweater and pull on parts of mountains. Instead, on the coast and the Peten, the days and nights are hot and the weather is wet.
Rainy season June to October
Cold season November to May
Market Days
Market days in the main planes in Guatemala
Monday
Panajachel, Antigua, Chimaltenango, Zunil
Tuesday
Sololá, Panajachel,Comalapa, Totonicapán, Patzún, San Marcos y Totonicapán
Wednesday
Panajachel, Todos Santos, Almolonga, Chimaltenango y Huehuetenango
Thursday
Chichicastenango, Panajachel, Antigua, Chimaltenango, Nebaj y San Juan Atitlán
Friday
Panajachel, San Francisco el Alto, Chimaltenango, San Andrés Itzapa, San Lucas Tolimán, Santiago Atitlán, Mercado los Sololá y Tacaná.
Saturday
Panajachel, Antigua, Todos Santos, Almolonga
Sunday
Chichicastenango, Panajachel, Chimaltenango, Nebaj, San Cristóbal Totonicapán y Tecpán
Markets Guatemala born in pre-Columbian times. Previously Guatemalans buy, sell and exchange basic goods basket. Now, the days of markets are attractive, exotic and colorful. Tourists come to visit and discover the life of the Mayan peoples of Guatemala.
Each market has its peculiarities:
Chichicastenango Market
The Chichicastenango market is focused on local trade and tourism with lots of handicrafts, souvenirs and textiles.
Sololá and Almolonga Markets
The market of Solola and Almolonga are more traditional and colorful with large candidades vegetables and everyday consumer products.
San Francisco el Alto Market
The market of San Francisco el Alto with sales of animals (from cats to horses and cows)
All people of Guatemala have 1 or 2 days weekly market.